Along the vibrant Chao Phraya River lies a unique, attractive landmark that is a fascinating destination the Bangkok – Shangri-La Hotel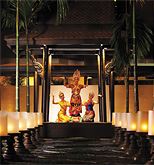 Your extraordinary experience starts with a smooth 35-minute ride in our chauffeur driven hybrid limousine from Suvarnabhumi International Airport. Upon arrival at the hotel, you are greeted by a porter with a warm smile and unexpected gracious Thai hospitality. The hotel's spacious lobby, luxurious rooms and suites, which offer a mix of traditional Thai style and modern comfort, and spacious balconies create a memorable "home away from home" experience.
You admire the sunrise and fantastic view of the Chao Phraya River and rest by a stunning free-form outdoor swimming pool set amid lush tropical greenery after breakfast. You close your eyes gently while thinking about all the day's wonderful activities. Shopping in shiny malls, charming boutiques and open-air markets around town or visiting the Grand Palace and other cultural landmarks located along the river is easy with the BTS skytrain or a river taxi.
After a long wonderful day, you head back to the hotel to restore balance and harmony to your mind and body in the calm surroundings of CHI, The Spa at Shangri-La. At dinner, you savour favourite Thai dishes in a traditional Thai teak pavilion or on a veranda facing the river at the hotel's Salathip Restaurant while enjoying graceful classical dance performances. Alternatively, you can enjoy an international buffet and great views by night on the Horizon Cruise.
Impeccable service and personal attention from a caring team complement the hotel's state-of-the-art facilities perfectly and are the hallmarks for any stay at Shangri-La Hotel, Bangkok.
Standard Room sleeps 2 Adults



Hotel Amenities




Room Amenities

24-hour front desk 

Total number of rooms – 62 

Number of floors – 4 

Bar/lounge 

Breakfast available (surcharge) 

Coffee shop or cafe

Hair salon

Number of outdoor pools – 2 

Free WiFi 

Grocery/convenience store 

Tours/ticket assistance 

Laundry facilities

Free newspaper

Cable TV 

In-room climate control (air conditioning) 

Kitchenette

Free bottled water

Microwave 

Refrigerator

Minibar

Coffee/tea maker

Daily housekeeping

Hair dryer

Free toiletries

Bathtub only

Air conditioning